Rollon revamps and expands its seventh axis range with an offering aimed at the light and collaborative robotics market, and with enhancement of the range intended for larger robots. The new additions bring the number of available models to 11, meeting the needs of major robot manufacturers.
---
The new range of axes dedicated to the lightweight and collaborative robotics sector (5 new models: 3 single-axis and 2 double-axis) introduces the belt drive with zero-backlash pulleys, which offers numerous advantages in terms of silent movement, guaranteed dynamics and reduction in the number of maintenance and lubrication operations. In addition, the new axes offer the option of simplifying handling and making it more efficient by positioning the motor on board the machine, thus reducing the overall weight to be moved along the axis and avoiding the need to manage cable handling.
The following are the part numbers for the new belt-driven models:
SEV 120-1S, SEV 160-1S, SEV 220-1S (single axis)
SEV 80-2, SEV 110-2 (double axis)
The optimization of the range of axes dedicated to the largest robotic sizes, has seen the arrival of 2 new products with rack and pinion drive, which guarantees the possibility of making potentially infinite strokes thanks to the convenient and fast joining of profiles offered by Rollon.
The following are the part numbers for the new rack and pinion models:
SEV170P-2, SEV280P-2 (PLUS)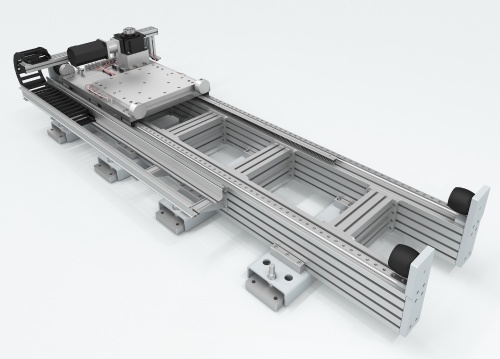 As usual, the Rollon range is characterized by the high level of customization that can be obtained, which includes some customized solutions such as end stoppers, robot connection plate, gearbox, protection systems for the axes, energy chain and levelling feet. Today, thanks to the expansion of the range, it is possible to conveniently select the most suitable axis according to the robot you intend to install.