Making its official debut at the IMTS Show in September, the ELM series of linear actuators is the first member of our new family of ActuatorLINE products. Tested and proven in the European market, versatile ActuatorLINE units are now available to North American engineers looking for more options in linear motion design.
Multiple Sizes Available. There's nothing worse than finding the perfect actuator and discovering it only comes in a few sizes, none of which fit for your application. The ELM series is available in several sizes, offering a range of stroke lengths, load capacities and speeds to meet a diverse range of application needs.
Body dimensions from 50 x 50 mm to 110 x 110 mm
Maximum axial loads from 530 to 2,650 N
Stroke lengths from 100 to 3,700 mm
Strong and Lightweight. Anodized aluminum extrusions offer high mechanical strength and low weight, a highly desirable combination in many applications. ELM units also feature a steel-reinforced polyurethane timing belt with either an AT pitch or parabolic profile for true versatility. All ELM units support loads in any direction and may be installed in any position.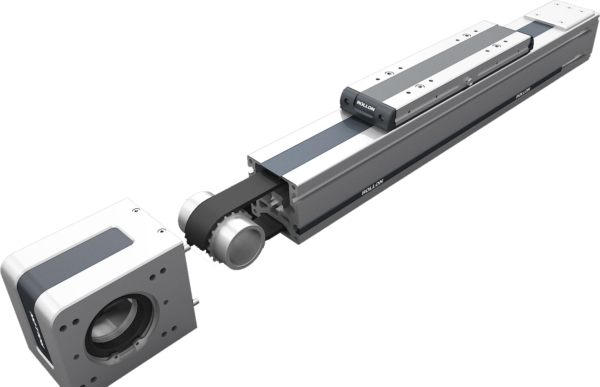 Low Maintenance. Trouble-free operation calls for components that can withstand the rigors of demanding industrial environments, without needing constant attention. ELM units feature a maintenance-free ball bearing guide fitted within the extruded body and offer speeds to 5 m/s, high load capacity and bending moments, low friction, and a service life of 20,000 km without re-lubrication. All ELM units are further equipped with polyurethane sealing strips to protect internal parts from dust and debris. Need even more protection? An optional bellows is available for critical environments.
Drive System Versatility. ELM units can be fitted with a variety of drive systems based on application needs. The driving pulley is attached to the reduction gear shaft by a tapered coupling to ensure high accuracy and long life.
Planetary gear versions are well suited to highly dynamic robotic, automation and material handling applications with stress cycles and high-precision requirements
Standard models feature clearances from 3 to 15 ft. and reduction ratios of 1:3 to 1:1,000
Versions with worm gears suit applications involving low speeds and accelerations
Multi-Axis Motion. In certain applications, movement of two linear units in parallel is required. In these cases, a synchronization kit is available for easy installation. Where multi-axis units are desired, a specialized set of fittings with brackets and cross plates connects ELM units to each other and to ROBOT units within the ActuatorLINE family.
For more information and technical data, visit our product page.