One of the biggest challenges facing industrial motion system designers is misalignment management. Some rail types, typically those with recirculating balls, require a very high degree of precision in installation and assembly, which often requires extra costs to prepare and adjust the support surfaces.
Developing an application while keeping costs down is possible by combining, in the right configuration, rails that offer different characteristics and can guarantee stability, strength, precision and repeatable movement and, in addition, compensate for even significant radial misalignments.
T+U, the efficient combination
In an application installed at one of our clients, there were multiple needs to be met. The combination of T-profile and U-profile linear rails has succeeded in effectively combining parameters of:
• precision
• accuracy
• speed management
• managing misalignments
• management of dust contamination generated by processing.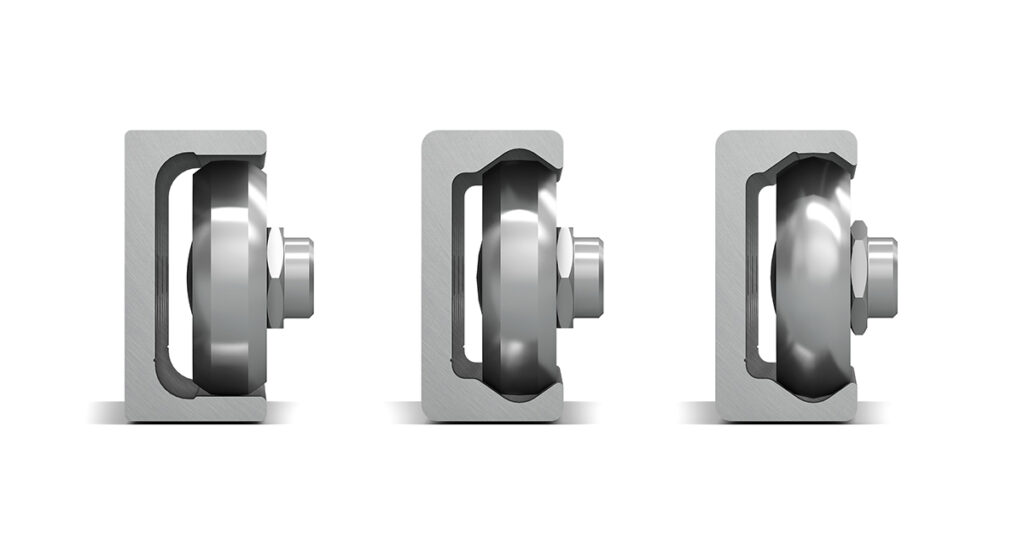 Let's see how
First, there was the need to radially support the weight of a laser head of about 10 kilograms for engraving details on a glass container. The head was moved at a rate of about 1.8 meters per second. Precision in head placement was essential to ensure quality workmanship.
Second, there was the need to ensure self-alignment (even in conditions of missing rail parallelism) to reduce application costs. Through the combination of a T-profile rail and a U-profile rail, these results were achieved.
The T-rail: precision and accuracy
The T-rail was installed at the top of the application. Most of the head's load rests on this rail and it is required to ensure precision and accuracy to its movement. The profile of the rail, in fact, creates rigidity by cancelling unintentional radial and lateral movements of the slider.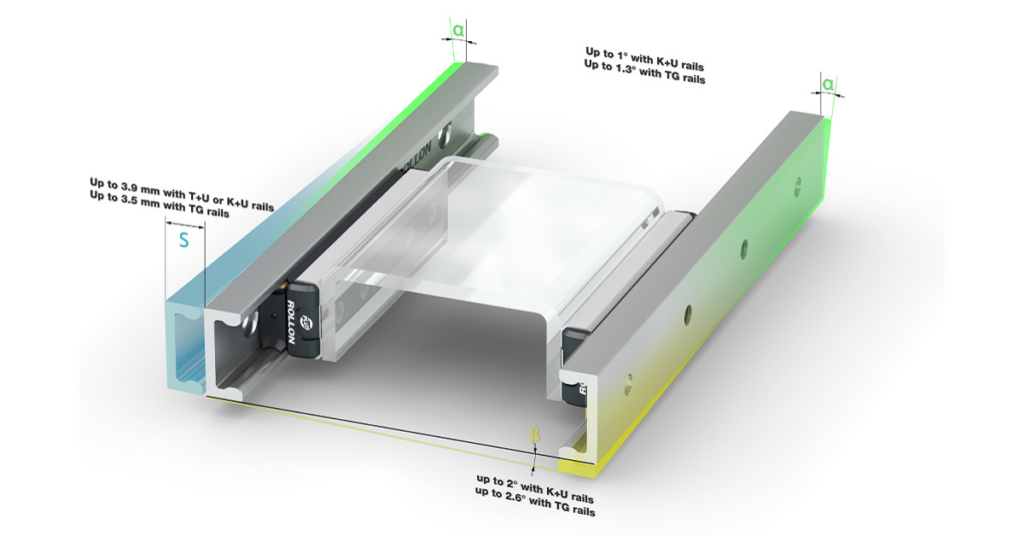 The U-rail for managing misalignments
The U-shaped profile rail was instead placed at the bottom. It allows the slider to slide freely allowing the management of parallelism gaps of up to 4 mm on tracks up to 4 meters long.
The combination of rails with different profiles and specific characteristics has allowed a simple but effective application to be obtained, without incurring extra costs (such as those required to implement a recirculating ball bearing rail with the correct precision parameters) for the entire structure.
The importance of managing contamination
One of the most challenging requirements of the entire application was the management of contamination from glass dust. The existence of contamination on the rail can in the long run adversely affect the sliding of the slider, thus requiring extra maintenance costs
Linear rails with roller bearings, such as Compact Rail, are significantly more effective than other ball bearing rails in handling contaminants due to several factors that take place:
• significantly larger diameter of the rolling elements (up to one inch in diameter) that allows for easy clearance of obstacles on the track.
• option to provide for protection and removal of impurities from the raceways.
which makes this type of rail particularly efficient in dirty environments and in working conditions where misalignment management is an important requirement.
Are you interested in learning more about the advantage that a rail or rail system that can handle radial and axial misalignment can offer?