The logistics industry has evolved to employ automated shuttle and automated storage and retrieval systems (AS/RS) to move products in three-dimensional planes within distribution centers and networks. In most cases, you need some form of linear guidance to support these moving systems. Many logistics companies invest hours and overhead costs into developing and sourcing linear guidance systems themselves or through a subsidiary.
At first, this traditional do-it-yourself method appears simple and cost-effective, but when you factor in invisible expenses like engineering hours, procurement and the risk of probable failures, this method may not be so beneficial to your bottom line.
The Do-It-Yourself Method
When considering a linear guidance system to operate in a cyclic, constant environment over hundreds of feet, engineers typically start with the weight of the shuttle system and then add component after component until they design their final assembly. They start with a simple bearing from an online source, followed by the linear guide itself—often in the form of a stamped or bent steel C-channel frame.
Next come weldments, special processes, bolt patterns, framework and supports, as well as any other subassemblies necessary to connect the transit mechanism to the guide system. Some simple systems can involve up to 50 different components from as many as 20 vendors! Unfortunately, the risk for failure is high: a simple subcomponent can fail at any step and cause downtime in the distribution center. Downtime can cost anywhere from thousands to hundreds of thousands of dollars per hour. And downtime for regular relubrication adds to the costs.
From this perspective, the do-it-yourself method is not an attractive option.

Self-Supporting Guides Minimize Risk, Maintenance and Invisible Costs
Our Speedy Rail addresses these concerns. With seamless connection points and a dovetail design, this bearing system does not suffer from rapid deterioration due to impact and shock as the shuttle AS/RS system traverses the length of the guide. The self-supporting guides consist of a convex hard anodized aluminum profile and steel roller bearings that stand up to harsh, dirty warehouse conditions and wear. Speedy Rail's large rollers, coated with a plastic compound, allow smaller debris to be absorbed without compromising sliding quality, and they are unaffected by cardboard or paper dust.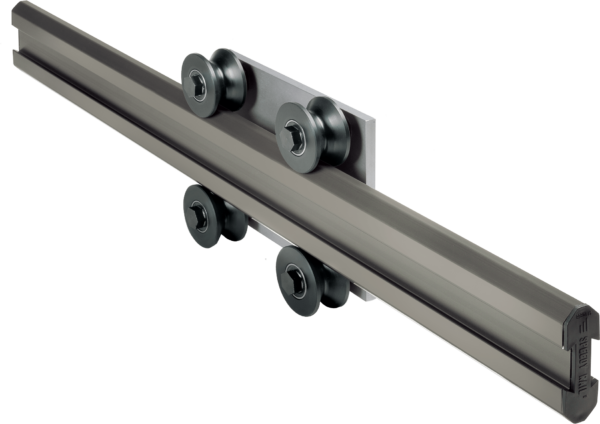 The rollers also come pre-treated with a high-performance grease, allowing the system to run continuously for 80,000 kilometers without lubrication. Taken together, Speedy Rail's combination of rollers, coatings and specially anodized aluminum profile ensure reliable operation without the costly downtime that comes with failures, repairs or regular maintenance, keeping operating costs in check.
Simplicity Comes With Cost Benefits
The risks and costs associated with downtime due to the old do-it-yourself method can be catastrophic to you or your customer's bottom line. Instead, let Rollon simplify your warehouse automation. Rollon Corporation specializes in moving warehouse production from point A to point B. The Speedy Rail system is both durable and nearly maintenance-free, and it eliminates many of the hidden costs of implementing a linear guide with your shuttle system to ultimately give you a favorable return on investment.
For more information about Speedy Rail self-supporting guides, visit our product page.