As robots become a mainstay in the manufacturing world, they are increasingly making room for cobots. Designed to work alongside humans, collaborative industrial robots (cobots) have become an attractive option for manufacturers, performing semi-automated tasks where robots are not practical.
Tasks, such as:
Counting and packaging deliveries to ensure accuracy and adherence to quality standards.
Parts assembly with excellent speed, quality and without effort.
Inspection to maintain high product quality when outfitted with an inspection camera.
Pick and place with reduced cycle times and material waste.
Additional tasks like lifting, polishing and sanding, gluing, dispensing and welding, machine tending and lab analysis.
Advances in technology and software are expanding the scope of potential cobot work environments to increasingly include small- and mid-size operations. That's why Rollon Corporation has adapted a Seventh Axis system for collaborative industrial robots from Universal Robots (UR). This shuttle system is designed to extend the operating area of UR's cobots to enhance their performance in automated processes for various industries without sacrificing their simplicity.
Rollon is currently demonstrating the SEV 220-1, which can move a UR10 — the largest in Universal Robots' collaborative industrial robot range. The UR10 can automate tasks and processes with payloads up to 10 kilograms (22 pounds), and it has a reach radius of up to 1,300 millimeters (51.2 inches).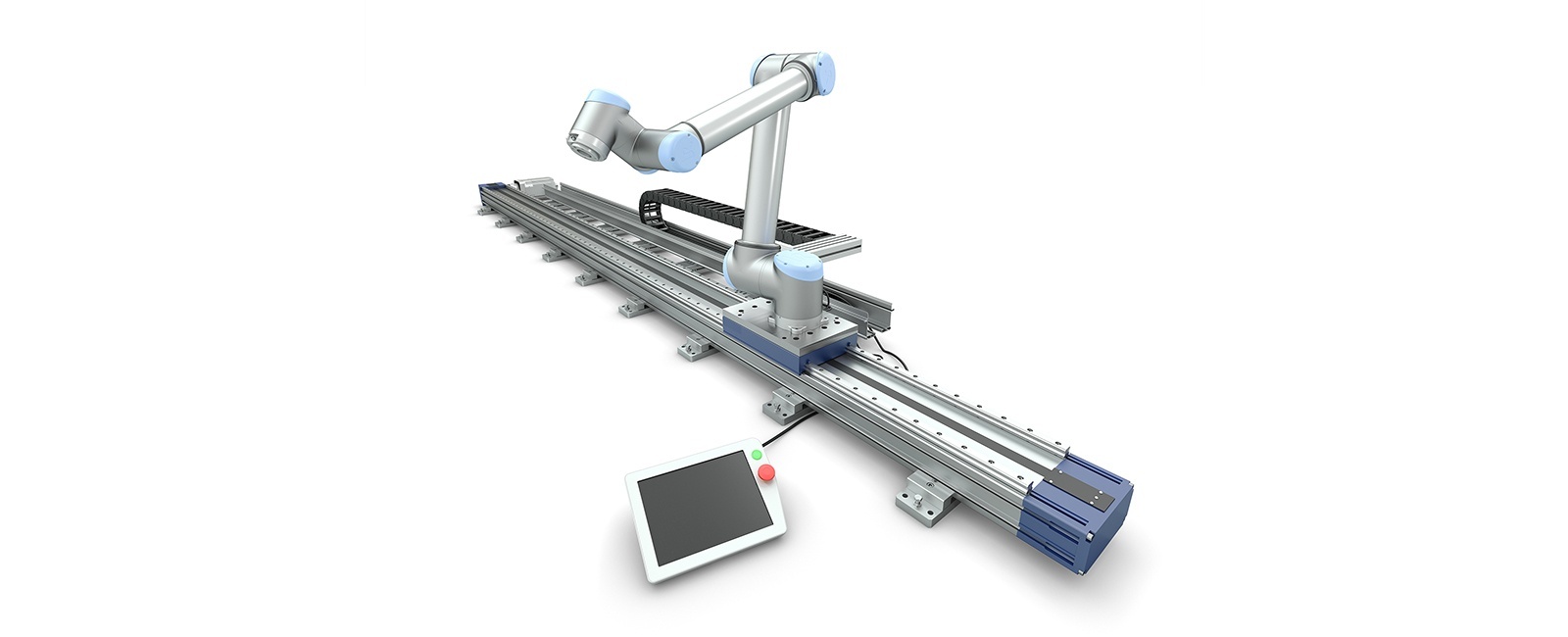 Shuttle Systems Give Cobot Arms a Helping Hand

The Seventh Axis actuator system, equipped with linear guides with recirculating balls and a belt drive, allows UR's robots to move at a speed of one meter per second, with an acceleration of 1.2 meter per second and a repeatability of ±0.05 millimeters. In addition to increasing collaborative industrial robots' range of motion, Seventh Axis also provides:
Heavy-duty anodized aluminum profiles for:

Weight savings.
Modularity.
Transport flexibility.
A high degree of rigidity.

Quick and easy assembly.
Programmability using a UR tablet.
With this collaboration, Rollon continues to grow in the robotics sector while shaping the future alongside innovative players such as Universal Robots. Look for additional Seventh Axis adaptations for Universal Robots devices to follow.
For more information and technical data, visit our product page.