Rollon Corporation now manufactures linear actuators capable of providing a seventh axis of motion to anthropomorphic six-axis robotic arms with a curb weight of up to five-thousand pounds! Seventh-Axis systems — part of our Actuator Line Series — offer a host of customizable features to meet the most demanding automation needs. Seventh-Axis systems incorporate a rack-and-pinion guided shuttle to traverse our linear extrusions for any required travel distance.
Whatever the size or weight class of your six-axis robot, Rollon has the right Seventh Axis actuator to handle it:
Low weight and small extension: The SEV220-1 combines a high-quality, self-lubricating rack and pinion system with a reliable linear guide system and a single aluminum extrusion with a 220-mm width to achieve a greater moment of inertia. Recommended for: Mitsubishi RV-2S
Small robot, one size up: The SEV80-2 rigidly connects two profile extrusions together via the steel shuttle. Recommended for: Fanuc LR Mate 200 and the Mitsubishi RV-5F
Small robot, wide dimensions: The SEV280-1. Recommended for: ABB IRB120 and the Mitsubishi RV-6F.
Heavy robots: The SEV170-2 connects two 170-mm wide profiles together to support heavier units. Recommended for: Fanuc M-10iA or the Mitsubishi RV-7F.
Six-axis robots, 500 kg: The SEV220-2. Recommended for: the Fanuc M20iA and the Kuka KR30.
Wide robots: The SE280-2 features two 280-mm wide aluminum extrusions. Recommended for: Fanuc M710iC or even the Kuka KR60.
The largest or heaviest robotic arms: The SEV360-2 can handle capacities up to 5000 pounds. Recommended for: Fanuc R2000iC, Kuka's QuanteK 150 and the ABB IRB6620.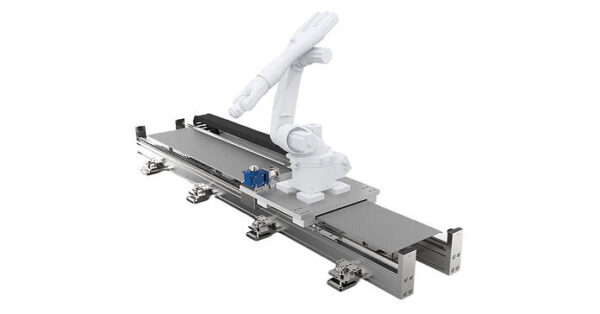 Rollon Seventh Axis actuators provide the needed support and life to get the job done. Because Rollon attaches the pinion gear directly to the shuttle, multiple shuttles can be mounted along the whole length of the extrusion. That means customers can attach multiple six-axis robots to a single beam and still have all units operate independently.
Customizable Features Satisfy Special Requirements
No matter what size you choose, Rollon Seventh Axis actuators can be mounted in any configuration. Whether mounted flat on the floor, transverse on the wall, or upside-down on the ceiling, Rollon provides the necessary leveling and mounting feet to support the actuator plus the robotic arm. And, most Seventh Axis sizes provide a diamond plate cover for applications where customers need to walk across the actuator without fear of tripping. Regardless of the base configuration of the robotic arm, Rollon will customize the shuttle design to accommodate and mount the base as securely as possible. You can also add cable carriers, proximity switches and rubber/gas decelerators to satisfy all your seven-axis motion needs.
For more information and technical data, visit our product page.