Designers sometimes try to cantilever a load in order to use a standard linear rail in unsupported areas. This approach may achieve a long load extension, but it comes at a price: bearing wear and overloading, especially when working with significant loads and cycles.
Telescopic rails can provide the reach and length designers need, but most are designed for manual, low-load and low-cycle applications such as filing cabinets and drawers. Heavy-duty manufacturing and automation applications require constant movement in demanding environments, so designers seeking accurate, long-lasting linear rails for unsupported loads must carefully examine the following considerations:
Bearing construction: Aluminum and stamped steel are common linear bearing materials, but they lack the ability to carry heavy loads or withstand vibrations that are typical of industrial applications. Bearings made from hardened cold drawn carbon steel are characterized by high rigidity and can minimize deflections even when carrying rated loads at full extension. In fact, this construction often eliminates the need for users to counteract deflection after travel.
Raceway construction: Quality, hardened raceways are essential to providing consistent movement especially when vibration, impact or shock loads occur. Hardened raceways offer very high load capacities, and, therefore, longer life. Rollon uses induction-hardened 60 Rockwell C steel in its telescopic rail raceways in order to ensure long life and resist brinelling. The raceways are ground for a few microns to ensure rail accuracy and maintain hardness, and additional anti-corrosion treatments can be used to extend the life of the rail in corrosive environments.
Precision: Most telescopic systems are cylinder driven, which can satisfy applications with just a few points of contact. However, for applications requiring very precise motion such as loading/unloading, press transfers and pick and place machines, telescopic belt-driven actuators provide optimal control. Rollon's TLS100, for instance, uses multiple stages to achieve strokes of 150 percent at speeds as high as 4.4 meters per second. This allows for a fast, robust system that can fit in a small space while giving great control over the motion of the machine. Using a belt as the driving mechanism also allows for the system to telescope in opposite directions, giving it more flexibility.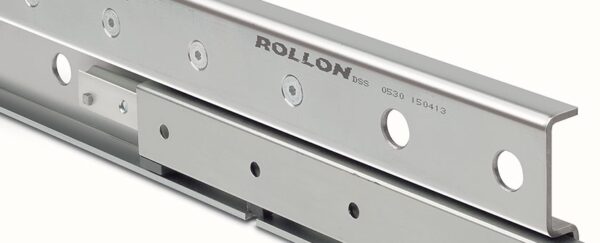 When designing a linear motion system for unsupported loads, not all linear solutions are the same. Be sure to consider the construction of the bearings and raceways along with the motion requirements. Although manufacturing costs may be higher, telescopic linear rails made from hardened, cold drawn steel and specially hardened railways can provide consistent heavy load movement at greater extensions over a longer lifetime.
For more information and technical data, visit our product page.