When it comes to manufacturing RV doors, hydraulic presses are used to punch various-sized holes into steel depending on the door size and hole requirements. Because of the forces and sizes of hydraulic punch presses, the product is usually brought to the press. This would normally require multiple stations and a lot of labor to move the doors through different stations.
The Challenge
Recently, a tool and die machine shop faced the challenge of punching all sides of a door frame in a single station. Since the machine produces differently sized doors, its work envelope has to expand or contract to the proper door dimensions. This requires servo positioning of the punches. When the operator enters the door size into the programmable logic controller (PLC), the machine positions the door frame in place. After the machine punches the holes, the punches retract and the door is ejected.
Monty Craven, owner and president of Die Rite Machine & Tool had several requirements when selecting the motion device:
Because the door machines must be adjusted in inch increments to hold doors of 40 inches or more, the motion component needed a 40-inch stroke.
It needed to perform a "double movement" — specifically, positioning the frame for loading and then moving the punches into the final position.
The device had to have a high load-carrying capacity and also high rigidity to prevent deflections.
"I couldn't put this on linear rails," Craven says. "I needed long travel and had so many parts of the machine to clear."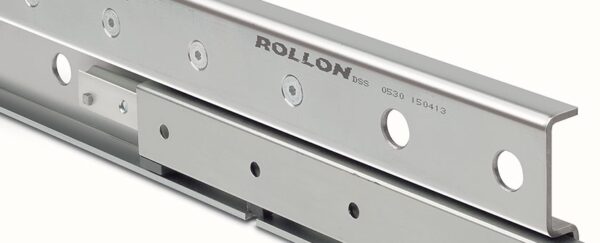 Meeting Both Travel and Load Requirements
Craven selected the Rollon Telescopic Rail guide. Available in eight sizes, Telescopic Rail products feature a high load capacity of up to 20,000 pounds (9,000+ kilograms) per pair of guides. The DSS Series chosen by Craven has 100 percent extension and capacities to 5,800 pounds (2,600+ kg) — more than enough to support hydraulic punches. Thanks to caged ball bearings, they also exhibit little deflection while under heavy loads, even when fully extended. Additional features and specifications include:
Extensions up to 150 percent
Induction-hardened raceways for long life
Various anti-corrosion surface treatments
Customizable
The Telescopic Rail was easy to install, and it delivered the travel and load support that Craven needed. "Once we got these units in and I saw them hold the weight, it made sense. And once it opens up, it's out of the way." And if the opportunity knocks, "I would use it again. It's great!"
For more information about our Telescopic Rail family, visit our product page.