When you need a belt-driven actuator for automated linear motion, there's a good chance you intend to use it in an aggressive working environment. If that's the case, keeping chips and other debris out of your actuator will be your first concern as you specify your unit. After all, particle contamination can affect your actuator's performance — or cause it to fail altogether.
Plus System ELM
While not all belt-driven actuators are suited for applications requiring positioning accuracy and higher-speed duty cycles in dirty environments, some actuators are designed to handle the job. One such unit is our compact and enclosed Plus System ELM linear system.
The ELM features a polyurethane sealing strip that completely protects the belt drive and linear guide system against chips, dust or other debris from entering the unit. The sealing strip runs the length of the actuator body and is held in position by micro-bearings inside the carriage. This unique, durable construction minimizes resistance as the strip passes through the carriage while maximizing contamination protection. In addition, the ELM's aluminum extrusion can be pressurized with clean, dry air to further resist contamination.
Here are some additional highlights of our Plus System ELM:
Single or double configurations.
Recirculating caged balls and a toothed belt drive positioned within the profile.
Customizable lengths up to 6,130 millimeters.
Actuators can be joined for longer strokes.
Mounting is easy, thanks to an expandable hub of the gear unit directly in the drive head.
Optional accessories: gearboxes, mounting kits, sensors and synchronization shafts.
The ELM compact linear actuator is also available in corrosion-resistant versions with stainless steel elements, and they can be lubricated with organic food-grade vegetable oils.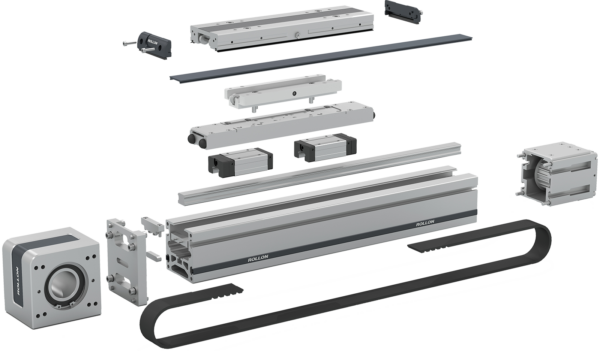 No Additional Protective Measures Required

Specifying a belt-driven actuator for dirty environments no longer means adding special covers or seals to guard against contamination. The Rollon Plus System ELM compact and enclosed belt-driven linear actuator's built-in polyurethane sealing strip is designed to keep the system running wherever debris is a concern. Not only will the ELM actuator give you peace of mind, you'll never have to ask "Do you have anything that can keep chips out?" again.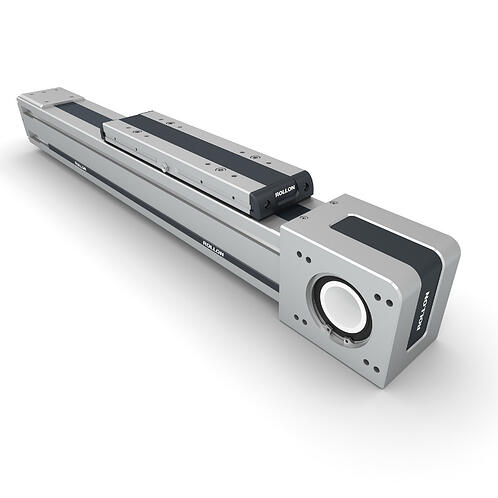 For more information about our Plus System ELM compact linear actuator, visit our product page.