Selecting the right actuator for a linear motion system isn't always easy. If your actuator must fit within a limited space or handle lighter loads — as is common in automated systems that perform positioning, measuring, dosing or other types of handling — finding a strong and precise unit becomes even more difficult. However, some newer linear actuators are designed specifically to address the need for high performance and durability in a space-saving unit. Here are the distinct attributes designers should look for in a compact linear actuator:
Superior design to deliver high, accurate thrust forces.
Preloaded linear guide carriages to absorb external forces and high load moments.
Rugged modular axes. The axes must exhibit torsional rigidity and be able to provide a low displacement angle while reducing wear and tear.
Protective features to ensure reliable operation and long lifetimes in tough industrial environments.
Actuators Combine High Precision, Robustness and Compact Size
Rollon Corporation's TH-70 actuator is a good example of a linear motion device that provides exceptional performance for low-profile, small-load applications that also demand high precision and durability. They use precision-rolled ballscrews to provide good thrust forces with high accuracy and repeatability, and their modular axes consist of a self-supporting aluminum profile with a high inherent rigidity. This construction minimizes wear and tear to ensure high reliability and a long lifetime. TH-70 actuators are available in single-carriage (SP2) and double-carriage (SP4) versions to meet different load requirements. Additional features and specifications include:
Maximum stroke lengths of 591 millimeters for the SP2 and 550 millimeters for the SP4 to accommodate limited space requirements.
Dynamic load ratings of 3140N (SP2) and 6280N (SP4).
Repeat accuracy within 5 µm.
High speed (for long pitch screws).
Low resistance to movement.
Separate lubrication channels for the ball screw and recirculating ball bearings to supply all relevant points with lubricants, making maintenance simple and safe.
Sealing strips protect against dirt and debris.
Available in a choice of precision classes and a variety of leads.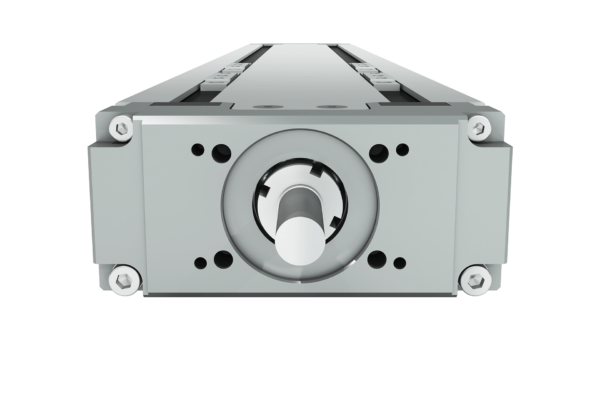 Find the Ideal Actuator for Applications Where Space is Scarce
Although space may be at a premium in your application, you can still realize the benefits that larger actuators provide, like high precision, accuracy and durability, in a compact unit. Rollon TH-70 Series ball screw-driven linear actuators feature high performance and protective features in a compact structure that is perfect for automated systems where space is scarce.
For more information about Rollon high-precision screw-driven linear actuators, including the TH-70 Series, visit our product page.