From industrial automation to robotics, there is a rising demand for motion systems offering greater design simplicity. This trend is being driven by a lack of time and resources, rather than a lack of technical expertise. Some engineers simply require high-performance components, while others need whole systems.
To meet these demands, Rollon currently offers a hierarchy of linear motion solutions designed to conveniently meet engineers' needs, no matter the application.



Telescopic rails and linear bearings. At the component level, our linear rails include caged ball bearings and recirculating ball bearing rails consisting of different profiles and slider types for use in industrial machinery, Special Vehicles railway and aerospace––to name a few. Our models boast maximum radial load capacities of 15,000 N (per slider) and are suitable for speeds up to 9 m/s. Our telescopic guides with caged ball bearings can also support very heavy loads––up to 4,200 kg––due to their inductively hardened raceways. Even when fully extended, they exhibit minimal deflection and can operate at a maximum speed of 0.8 m/s.

Actuator. Rollon's linear actuators are available in belt, ballscrew, or rack-and-pinion drive types. Designed to push or pull loads in industrial machines, typical applications include pick and place Packaging and Packaging and Logistics, production lines and assembly operations. Our models are a cost-effective option combining high performance with simple construction, featuring an anodized aluminum frame and steel-reinforced driving belt that can support high loads and speeds with great precision––up to 0.05 mm repeat accuracy. Other product families, such as the Tecline, can be configured in 1, 2 and 3 Cartesian axis linear modules with rack and pinion drive, guaranteeing fast, quiet and precise manipulation of loads exceeding 3,000 kg (single axis system).

Actuator System Line. Saving the engineer even more time and convenience, our Actuator System Line is our series of industrial automation systems designed to meet the most demanding needs of our customers. Consisting of several assembled actuators, these pre-engineered, pre-configured robots are ideal for high-load applications, such as press feeders and assembly line transfer. Our Seventh Axis solution, for example, is available with belt and recirculating ball bearings or rack-and-pinion and recirculating roller bearings.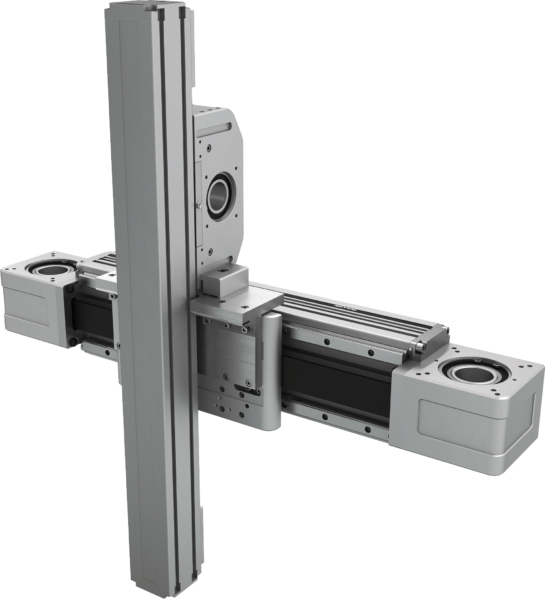 Motion Box. Finally, at the top of the hierarchy, Motion Box is a complete pre-engineered, pre-assembled and pre-tested 3-axis motion system that consists of everything from the HMI to the Ethernet connection, eliminating the potential failure points customers face when building a system themselves. While basic gantry systems often require more than 100 hours of engineering time, it takes only two hours to set up Motion Box, which is designed to move a defined load over a defined distance in a defined amount of time. Equipped with high-efficiency motors and drives, the system boasts 5 μm repeatability and 1 G acceleration, achieving a maximum speed of 1 m/s whether the load is 5 or 50 kg.